You can always count on Mary Lorraine, fondly known as ML around these parts, for the following:
1)  A vast knowledge of Pop Culture past and present
2)  Laugh out loud one liners
3)  A fond penchant for throwing and attending themed parties, preferably in costume. Remember Bjork's Oscar Dress?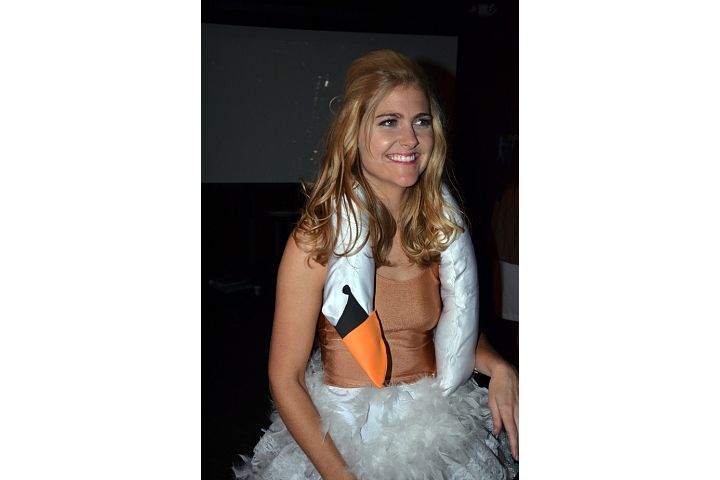 Her Favorite 5 illustrates her full circle vision of music's ability to enhance a production.  Without further ado, let's hear first hand what ML ♥'s about 5 Alarm Music:
All Flossed Out – 5 Alarm Music Library (05A044_01)

Terms like "library music," "stock music," even "production music" don't convey how amazing our composers and artists are.  This song is a perfect example.  After this Entourage Trailer, everyone wanted to know where the song came from and how they could get a hold of it.  The track is actually not from an artist off our label, but a composer from the 5 Alarm library!  It is infectious, fun and better than most Hip Hop on the radio right now.
Planning for Tomorrow – Parry Music Library (PML1081_13)

While All Flossed Out exemplifies how our music could be on the radio, this song shows another type of music we represent. In an episode of the Office, when Sabre takes over Dunder Mifflin, the typical corporate video (ironically hosted by timeless heartthrob Christian Slater) was made to show the employees, using none other than 5 Alarm music!  If you do need corporate music, music that needs to be in the background to enhance your production, but nothing that distracts, we have thousands of tracks to choose from.
Blaire Woods – Jingle Jangle Christmas (Rescue Records)
Audio clip: Adobe Flash Player (version 9 or above) is required to play this audio clip. Download the latest version here. You also need to have JavaScript enabled in your browser.
Not only is Blaire one of my best friends, but she is also the most talented musician I know.  Christmas is my all time favorite time of year, and this song belongs on every record player at every Christmas party on the screen.  Puts you in the Christmas spirit, is original, and is catchy as all get out.
Hooshere – Stolen Glances (Rescue Records)
Audio clip: Adobe Flash Player (version 9 or above) is required to play this audio clip. Download the latest version here. You also need to have JavaScript enabled in your browser.
Another one of my friends, Hooshere Bezdikian, is a fantastic musician with Rescue Records.  She sings Armenian music and is just one of many of our world music artists.  I love that no matter how particular your music search is for your project, (even Paraguayan Folk Tales!) we've got it.
Carol of the Bells – Custom Music for Saks Fifth Avenue's Annual Christmas Snowflake Light Show
Even though I love all of our libraries, I am very proud that 5 Alarm can produce and record a tailored one of a kind track for a client at a moments notice if need be.  Since we have already established that Christmas is my favorite time of year, I of course have to brag about 5 Alarm's custom composition created for one of the coolest Christmas displays in New York City.  Across from Rockefeller Center, at the original Sak's Fifth Avenue, there is a wondrous Snowflake light show set to a powerful yet delicate Carol of the Bells.  Thousands of tourists descend every season to stop, stare, and listen to this magical syncopated sight and sound that happens every 15 minutes!
* For more great tracks from the 5 Alarm Music arsenal, check out our online music library website.