Hats off to our 5 Alarm compadre Doug Bossi for winning not one, but two BMI Awards!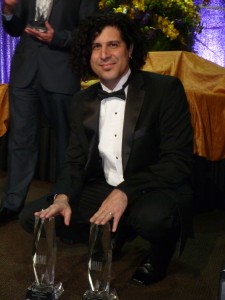 His compositions featured in ABC's philanthropic show Secret Millionaire and The Discovery Channel's aviator family documentary series Flying Wild Alaska received BMI's highest honor last week.  Doug was one of only 14 other artists that got more than one BMI TV and Film Awards this year.

Doug has contributed lots of music to the 5 Alarm Music Library as well as being the main creative force behind the 1 Versatile Underscore music library.  His musical diversity spans many genres and moods.  Anything from hard hitting guitar riffs with vocals (05A065 Classic Rock) to atmospheric guitar reflections (05A089 Ambient Guitar Scores) to edge-of-your seat filmic rock (05A086 Superhero Rock) to feel good lifestyle grooves (1VU001 Neutral) to pensive reflective moods (1VU005 Emotive), Doug proves that he can do it all!

Congratulations Doug, 5 Alarm Music is your number one fan!