What's the biggest difference between a drummer and a large pizza?  A large pizza can feed a family of 4.  Bah-dump CHING!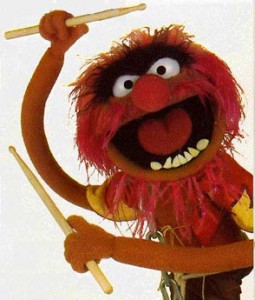 We drummers have heard it all and are used to being the brunt of all the bad musician jokes.  We are used to lugging around heavy and awkwardly shaped gear up stairs and being shoved into tight dark corners of the stage.  We are used to idly watching as the lead singers and guitarists soak in all of the adulation and praise while we sit alone at the bar after the show.  As Rodney Dangerfield was fond of saying, the drummer gets "no respect!"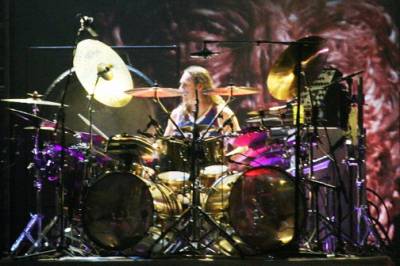 There are those few drummers who instill a sense of wide eyed awe and disbelief during a performance.  The general public may not be able to pick them out of a line-up, but the combination of physicality and coordination is remarkable.  Case in point – Danny Carey from Tool.  After watching their performance at The Nokia Theater last night, I envisioned electrical controls underneath his LA Clipper's jersey powering mechanical limbs to pull off those chops.  It's a blessing and a curse to be a trained musician.  You know enough to recognize just how difficult (impossible?) it is to play like that!
There are some smoking tracks in the 5 Alarm catalog that feature the best drummers in the business and make me want to go home and practice paradiddles.  Here are some of my favorites –
Chad Wackerman is the unassuming monster drummer behind Frank Zappa's touring band in the 1980's.  He's one of the few people on earth who can actually play the daunting and nearly impossible Black Page from Zappa's intimidating musical vault.  This is the stuff of legend, kids!  Here's a tribal rocker from the Sonic Ozault Music Library's Guitar Heroes Vol.3 that highlights Chad's power:
SOZ013 Acid Leak
Audio clip: Adobe Flash Player (version 9 or above) is required to play this audio clip. Download the latest version here. You also need to have JavaScript enabled in your browser.
Gregg Bissonette is best known as a in-demand session drummer and all around nice guy who has toured with the likes of Toto, Maynard Ferguson and Steve Vai.  Here's a clip from the 5 Alarm Classic Rock CD with fellow Mustard Seeds comrade Doug Bossi on guitar/vocals that demonstrates Gregg's talent for fueling a song:
05A065 Fight Back
Audio clip: Adobe Flash Player (version 9 or above) is required to play this audio clip. Download the latest version here. You also need to have JavaScript enabled in your browser.
Incidentally, Gregg's brother Matt Bissonette is playing bass on the track as well.  Matt is on our Rescue Records label and flexes his Funky bass chops on this track:
Rescue Records – Open It Up
Audio clip: Adobe Flash Player (version 9 or above) is required to play this audio clip. Download the latest version here. You also need to have JavaScript enabled in your browser.
M B Gordy is a well respected and versatile percussionist who has backed some of the top artists in the world: The Doobie Brothers, Neil Diamond, Wilco and Frank Zappa among many others.  Here's a Brazilian celebration that features his full-circle vision in creating a drummer's paradise:
05A019 Bahia Carnival
Audio clip: Adobe Flash Player (version 9 or above) is required to play this audio clip. Download the latest version here. You also need to have JavaScript enabled in your browser.
Who are some of your favorite drummers?  Do you know any funny drummer jokes?  All drummers come forward, let your comments be heard!
*To hear more spectacular and awe inspiring tracks, visit our online music library website