KCRW + Free Show + Great Bands + Old Town Pasadena = AWESOME!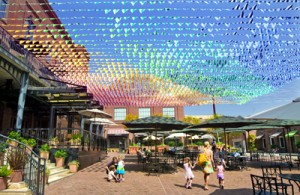 Last Saturday kicked off KCRW's Summer Nights concert series in our beloved Old Town Pasadena with a scorching performance from Hot Hot Heat (who didn't sing along to the gargled vocals of their hit Bandages back in 03'?).  This Saturday's performance will feature LA's very own Everest starting at 7:30 with KCRW DJ/music supervisor Chris Douridas closing out the night.  It all happens at One Colorado which is an open seating area located off Colorado Boulevard between Fair Oaks and DeLacey Boulevard.
After your sun block starts to wear off and the BBQ is left to die out, spark off your Saturday evenings with some infectious Summer melodies!