There was a time when you went to the butcher shop for meat, the bakery for bread and the general store for everything else.  Those were simple times!  These days you go to one place and have a myriad of different choices for whatever you could possibly need.  Finding music is a lot like doing your grocery shopping.  There are large music libraries have have over 200 CD's spanning all genres and then there are smaller boutique libraries with a smaller specialized catalog.
For all of you who like to see all the cookies in the display case and point to the exact one you want, we have lots of great music from our smaller new music libraries.  Just click on the drop down menu above the search bar to browse our Boutique Libraries database: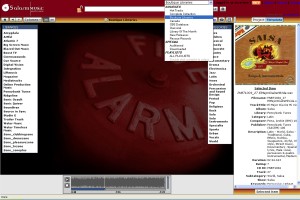 Here's some of what you will find –
Ridgeline is successful in blending Rock, Electronica and World music with a Pop sensibility resulting in a well rounded sound.  Here's a cut from their Sonic Fruits CD:
Audio clip: Adobe Flash Player (version 9 or above) is required to play this audio clip. Download the latest version here. You also need to have JavaScript enabled in your browser.
Cinemasounds supplies a powerful orchestral flair to all cinematic productions and trailers.  Take a listen:
Audio clip: Adobe Flash Player (version 9 or above) is required to play this audio clip. Download the latest version here. You also need to have JavaScript enabled in your browser.
Pennybank Tunes is one of the newest additions to the 5 Alarm family and is like a charming travel companion taking you to all corners of the world.  Here's a selection from their brand new Salsa CD:
Audio clip: Adobe Flash Player (version 9 or above) is required to play this audio clip. Download the latest version here. You also need to have JavaScript enabled in your browser.
Blazed Out Music is the ultimate Urban library with Rap and Hip Hop styles straight from the Brooklyn Queens Expressway to the Dirty South in ATL to the Pacific Coast Highway.  Check out a track from their latest CD Your Favorite MC:
Audio clip: Adobe Flash Player (version 9 or above) is required to play this audio clip. Download the latest version here. You also need to have JavaScript enabled in your browser.
These are just a few examples from our unique boutiques.  Go to our Search & Rescue website to find many more where that came from!  While you're there, be sure to check our New Release database which gets new additions daily.  Sample the goods straight from the oven but be careful, they're hot!