Drum roll please! 
Audio clip: Adobe Flash Player (version 9 or above) is required to play this audio clip. Download the latest version here. You also need to have JavaScript enabled in your browser.
Here are the top 10 reasons to visit 5 Alarm Music at the NAB (National Association of Broadcasters) Convention booth # SL8209:
#10 – No one rocks a flaming bowling shirt and cowboy hat like we do.  No one.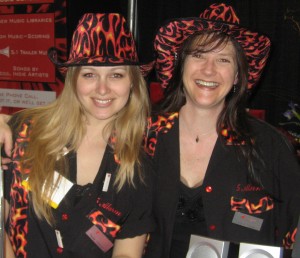 #9 – Our booth does not have slot machines, so you will be able to save your $.
#8 – Oh ya, our booth looks awesome!  Check out those little trees.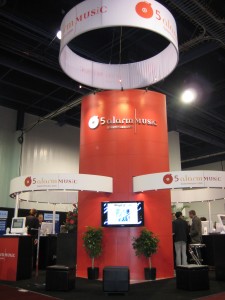 #7 – The feeling of accomplishment from being coherent in the morning/afternoon in Las Vegas.
#6 – Carrot Top won't be there.  We promise.
#5 – We come bearing gifts!  Move over Grammy gift bag, that's all I gotta say.
#4 – No one else has The Rhymatist rapping at their booth!  He'll be throwing down some sick Freestyle on Monday 4/12 at 11 AM and again at 3 PM.
#3 – You can play around with Sonic Fire Pro which is the only software that allows you to add and edit music to video from the comfort of your own desktop.  Don't believe me?  See for yourself.
#2 – Hear our awesome new music libraries – Stereo Royal, 1 Revolution Music, 1 Versatile Underscore and Liftmusic.  These tracks are hotter than the asphalt on the Vegas Strip in the middle of July!
#1 – With over 100,000 tracks, 3,750 CD's and about 175 independent artists from the US and UK on our Rescue Records label, we are truly your music concierge!  Duh!