Life isn't perfect.  Except when you call 5 Alarm Music for a piece of custom music that is!  Staying true to the 5 Alarm motto "We've got it or we'll get it," no is a word you will never hear around these parts!  Sometimes "getting it" actually involves writing and recording a piece of music soup to nuts customized to your specifications.  Regardless of how outlandish the musical request may seem, our Head of Production Maddie Madsen will get 'er done!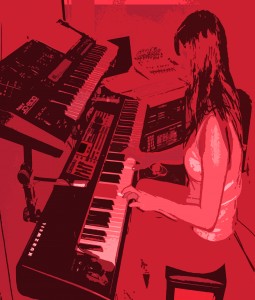 Maddie Madsen radiates music.  She ventured out of her home state of Utah after high school to study at the prestigious Berklee College of Music in Boston, Massachusetts.  She honed her skills as a Music Synthesis major with a focus on composition and all-around shredding on the keyboard.  Her first job after graduation took her across the country to the burgeoning music scene in San Francisco at an audio post production studio while playing keys in the Progressive Metal band Quiddity.  Maddie's move to Los Angeles marked her start in the Production Music world as a Music Director and Account Executive before being a founder of 5 Alarm Music.  An extensive background like Maddie's can seem intimidating, but her friendly and open demeanor is a breath of fresh air in the competitive music industry.

Check out Maddie's impressive Prog Metal keyboard chops back in the early 90's with Quiddity!  When's the reunion tour?

Audio clip: Adobe Flash Player (version 9 or above) is required to play this audio clip. Download the latest version here. You also need to have JavaScript enabled in your browser.


Each recording session creates its own set of challenges.  One custom recording job in particular required unique specifications: write a children's song that will be played as a mode of torture to inmates at Guantanamo Bay for a scene in The Men Who Stare At Goats starring George Clooney (*swoon*) and Jeff Bridges.  In other words, write a really obnoxious song that would drive someone nuts if looped on permanent repeat.  No problem!  Maddie gathered up a group of eager youngsters into the studio and all was going well……until one of the kids burst into tears during the session.  The bribe of cupcakes after the session wasn't enough to turn that frown upside down.  It wasn't until the assistant engineer built a "magical fort" out of acoustic baffles that the child pulled it together and delivered a stellar performance.  Magical forts always make everything better in the studio!

The Men Who Stare At Goats – I See You

Audio clip: Adobe Flash Player (version 9 or above) is required to play this audio clip. Download the latest version here. You also need to have JavaScript enabled in your browser.


Assembling a large choir for a custom recording session is nothing new around here.  Having a homeless man burst into the live room during a live take was!  The mishap occurred while recording a version of Dvorak's New World Symphony for everyone's favorite show about Mormon polygamy, Big Love.  It's understandable, Rock n' Roll clients at recording studios can have that homeless look.  Zing!

Incidentally, the same choir came back into the studio to sing an arrangement of Joy To The World which will be featured in the opening credits in A Very Harold And Kumar Christmas which will grace the big screen Christmas 2011.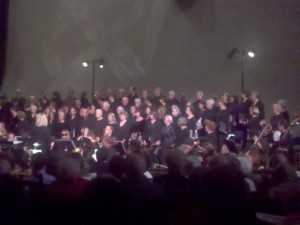 5 Alarm's custom music credits go beyond major motion pictures and television.   Maddie has also produced music used in corporate advertising, network branding, website marketing, commercials and even the holiday music heard outside of the Time Warner Center's Holiday Under The Stars light show in New York.

Check out a Rock en Espanol track featured in Herbalife's feel good web campaign.  This track was co-written by Beastie Boys drummer and all-around awesome dude, Fredo Ortiz:

Audio clip: Adobe Flash Player (version 9 or above) is required to play this audio clip. Download the latest version here. You also need to have JavaScript enabled in your browser.


5 Alarm Music knows no no's.  If you can imagine it, Maddie can produce it!  Give her a call at 626.304.1698 and Maddie will make the magic!  Don't take my word for it, see for yourself: