It's that time of year again – cloudy cool weather in Los Angeles, holiday decorations up everywhere you look, and Christmas music on the radio! We've had a banner year here at 5 Alarm – 2016 was full of great placements, fantastic awards and amazing new libraries that we now represent.
5 Alarm had placements in 30 feature films, from mega blockbusters (Batman V Superman: Dawn of Justice) to awards-season contenders (Manchester By the Sea.) Our music was featured in almost 130 television shows, including Empire, Fear the Walking Dead, Halt and Catch Fire, Luke Cage, Mr. Robot, Quantico, The Big Bang Theory, The Good Wife, Veep, Vikings and Z: The Beginning of Everything. We also landed placements in 40 trailers for major feature films such as Moana, 10 Cloverfield Lane and Office Christmas Party.
At the Production Music Conference in the fall, we cleaned up at the Mark Awards, taking home 6 trophies – more than any other company! Some fantastic libraries we represent in France were the big stars of the night –  Best EDM Track (Parigo Music), Best Country Track (SuperPitch Music), Best Use in Underscore in TV Program (SuperPitch Music) and Best Use in a Full Length Theatrical Film (Pennybank Tunes). And here at 5 Alarm, our own in-house catalog took Best Rock Track and Best World Track. The PMC was an amazing event and we look forward to seeing everyone there again next year.
As part of our new relationship with ole, we began our representation of some fantastic catalogs. Beta Rhythm Farm, Boom Music, Camaleon, Clockwork Orange Music, CUE, Epic, Full Clip Music, Gourd Music, Hens Teeth Music, L'il G'Rilla Music, Nelvana, Music for Sport, Private Reserve, Scorebuzz Music Library, Spider Cues, The Pitch, Tread Music Library, Vibey Library, and Vibey Underscores are now repped by us in the United States. 4 Elements Music, Blue Dot, Brand X Music, BURN, Crush, Deep East Music, Flashpoint, Indie Production Music, L.A. Edition, Mediatracks, Music Outside the Box, Omni, PostHaste, Sonic Quiver, Spice Vocal Library, All Music and Super Pitch Music are now repped by us in Canada. It's been such a joy getting to know the music and people behind these incredibly varied and useful catalogs!
We also debuted two new Premium Catalogs – Sync Stories and Tonic Music + Sound Design.
Sync Stories is the brainchild of Eric Vasquez, a visionary leader in the production music industry. Previous to SyncStories, Eric served as Chief Creative Officer for 411 Music Group and founded the organization in 2012, and before that, songwriter, composer and producer for various TV, Film and Advertisement productions including Undercover Boss, The Expendables 3, and Google to name but a few. His music career began at the young age of 15 as a drummer and promoter, which eventually led to an invitation to drum for legendary 80's punk rock band, Dr.Know. Soon after, Eric hit the road for 8 years on tour itineraries that included the Dead Kennedys, NOFX, Bad Brains, Bad Religion and many iconic bands of the late 70's and early 80's punk rock movement. His new creative endeavor SyncStories is a "One-Stop" music licensing organization, artist repertoire and music publisher for TV, Film, Interactive Media and Commercial Artist Recordings. Their unique team of active A&R representatives, consisting of expert music producers, artists, DJ's and tastemakers, provides quality, curated content to the audiovisual and recording community, while leveraging emerging and established artists in Indie, Pop, Urban and Electronic Dance Music. 5 Alarm now has 53 albums of music from these incredible indie cutting edge indie artists available for licensing.
Tonic Music + Sound Design comes to us from veteran composer and sound designer Kevin Teasley, and provides premium Music & Sound Design for Theatrical Trailers and Advertising. Prior to starting Tonic, Kevin was highly in-demand as a composer and the principal in the L.A. music company Distortion, which specialized in trailer music. He scored trailers for such movies as Indiana Jones and the Kingdom of the Crystal Skull and The Mummy 3, among many others. Kevin then began work as composer and sound designer of the hit Jennifer Lopez Las Vegas Residency Show "All I Have" at Planet Hollywood, as well as touring with recording artist Chris Brown. Some recent trailer credits for Tonic through 5 Alarm/ole include: The Accountant, The Great Wall, Arrival, War Dogs, Pete's Dragon, The Girl on the Train, Stark Trek Beyond, Allied and The Conjuring 2.  We're proud to represent the first three volumes of Kevin's Trailer Toolkit with Drones and Atmospheres, Hits, Impacts and Sub Boomers, and Epic Cinematic Taiko Hits.
We hosted a mixer before the PMC to show off our beautiful new offices – thank you to ole for finding us such a great new space!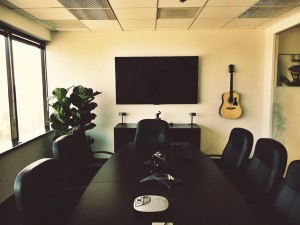 Our conference room with large windows looking out on the city of Burbank!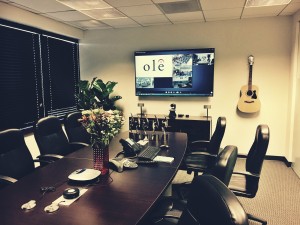 Note the MARK awards on the table!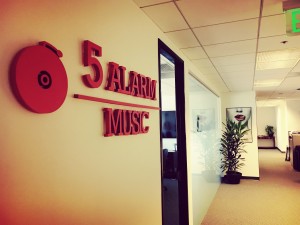 Entryway with logo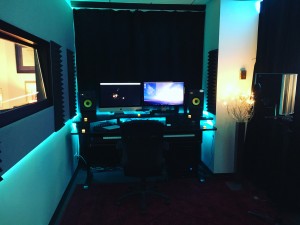 Check out our newly finished studio – where the magic happens!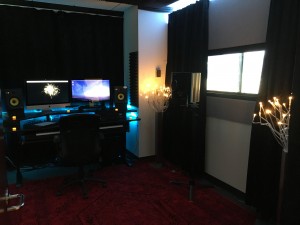 Waiting room of the new 5 Alarm Music offices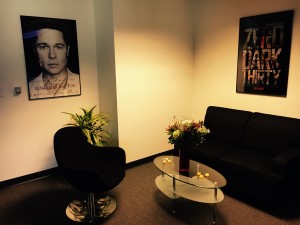 On a more personal note, we celebrated when our Marketing Director/Operations Manager Danielle Malmlund became Danielle Saunders, marrying her longtime love in June. And our Music Director and In-House Composer, Christy Carew, welcomed another baby to her family in August. A year of great new beginnings for the 5 Alarm Family, and we are so looking forward to what 2017 will bring!
Thank you to all our clients and catalogs for contributing to our success in 2016. We wish everyone joyous holidays with all the blessings of the season.