Christian Salyer (also known as Cadence Blaze) is bringing song oriented music to the production music world in a big way.  He's the mastermind behind the beloved Blazed Out Music library and is featured in the Fall edition of SESAC Magazine.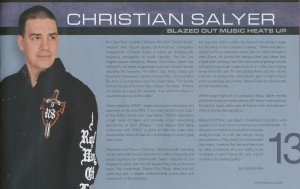 Christian has earned a rep for having his finger on the pulse of current music trends so it's no surprise that Blazed Out has been placed in popular network shows including Entourage, The Simpsons, The Office, Ugly Betty, Gossip Girl, Desperate Housewives, Oprah and Dancing With The Stars among many others.  His statement "The only way to survive is by creating quality" proves to be working!
BOM007 West Coast Rap – It's A Party Ya'll
Audio clip: Adobe Flash Player (version 9 or above) is required to play this audio clip. Download the latest version here. You also need to have JavaScript enabled in your browser.
BOM009 East Coast Rap – What With Me
Audio clip: Adobe Flash Player (version 9 or above) is required to play this audio clip. Download the latest version here. You also need to have JavaScript enabled in your browser.
Have you been to New York City during the Holiday season?  If you have, chances are you've heard Christian's music featured in Saks Fifth Avenue annual snowflake spectacle.  Here's his modern rendition of Carol Of The Bells:
Audio clip: Adobe Flash Player (version 9 or above) is required to play this audio clip. Download the latest version here. You also need to have JavaScript enabled in your browser.
We salute Christian's pioneering spirit in making contemporary production music that could fit in any current radio playlist.