This month, we're celebrating a wonderful 10 years and 100 albums with one of our dear catalogs, Sonic Quiver.
Sonic Quiver is an American production music library based out of sunny Florida, USA. Founded in 2007 by Shana Lazarus, the library celebrates its 10th anniversary and 100th release in 2017. Over the last decade, the international team of producers and composers have been having a blast creating one of the most useful and vibrant production music libraries of its time.
Sonic Quiver has become known for its inspired, youthful energy, spanning a broad spectrum of genres, with cues specifically tailored for broadcast and film. Sonic Quiver offers a robust collection of trend-driven content from commercial producers, covering genres like indie, rock, punk, country and blues. The label also features sophisticated orchestral compositions for drama and film, including crime, thriller, epic, romance and action.
Sonic Quiver boasts a strong American identity with albums like 'West Coast, Best Coast'; 'Country Trash'; 'Deep Fried South'; 'Bluegrass and Blues' and 'Aloha!' and is your go-to library for those quirky, cheerful indie cues ('Reasons to Smile'; 'Sunshine Indie' and the 'Instant Happiness' series), and their attitude to Rock 'n' Roll is quite simple: "go big or go home" ('Pedal Says Fuzz', 'Grinding Gears', 'Stoked' and 'Emo Rock').
Sonic Quiver is the perfect blend of youth and heritage; offering high-quality orchestral cues from established and respected composers, coupled with on-the-pulse commercially influenced releases from world-class producers.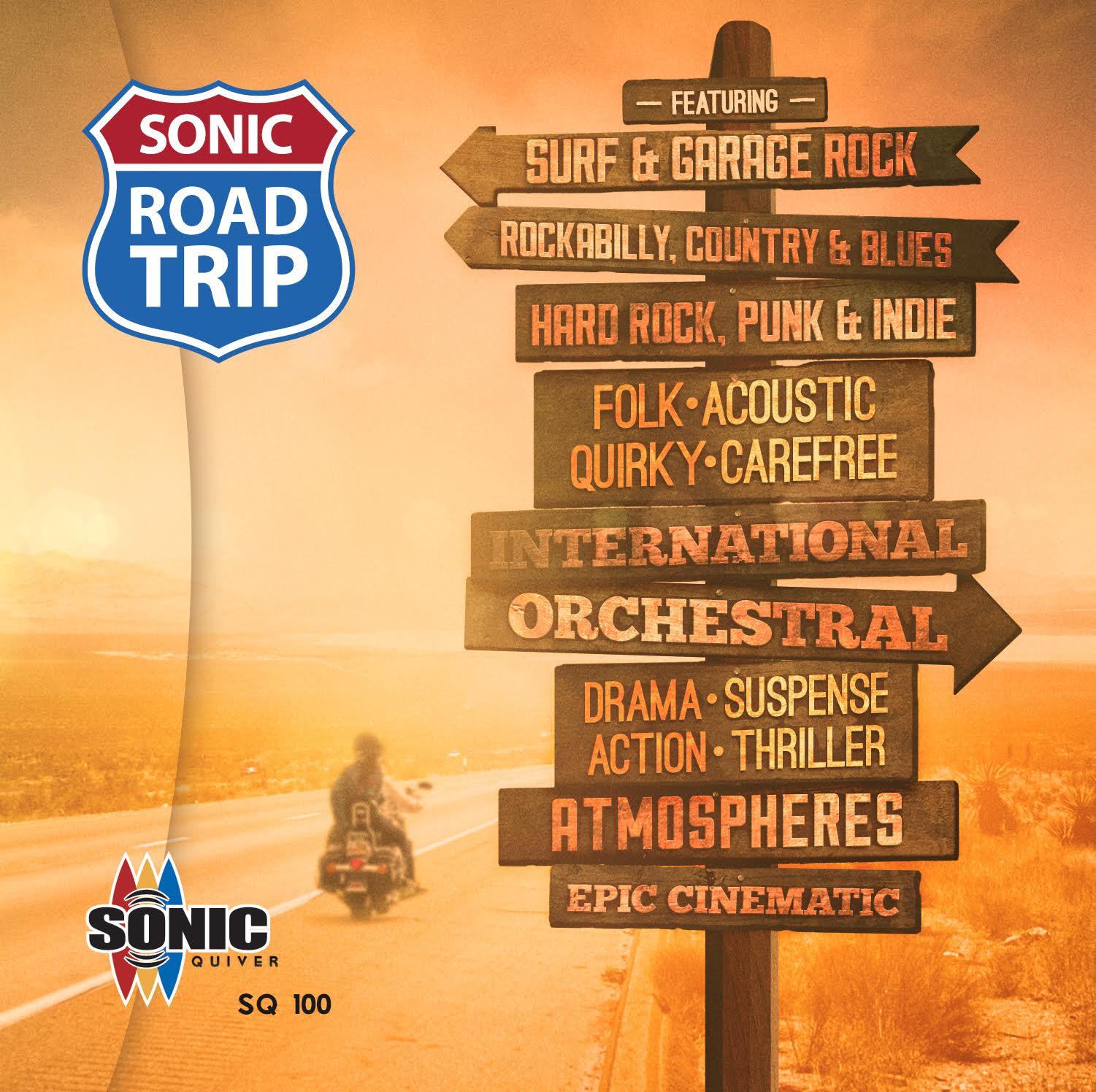 Sonic Quiver's 100th album "Sonic Road Trip" takes you on a non-stop road trip of its first 99 releases with a 100-track compilation album 'SONIC ROAD TRIP'. In the opening act we put on our boots and take a hitchhike tour through the USA: Surf & Garage Rock; Rockabilly, Country & Blues into Hard Rock, Punk & Indie. From there, we take a pit stop at the road house for a little quirky and carefree Folk and Acoustic.
Next up, we go on a world tour with some Reggae, Latin, European and all round beach and sunshine vibes. And the final act is Cinematic and Dramatic: Epic Trailer, Orchestral Drama, Action and Suspense and we bring you home with some contemporary uplifting, inspirational cues.
Sonic Quiver throughout the years…
"It's been one heck of journey, and we're just getting started."