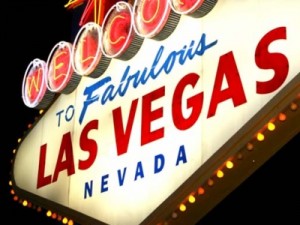 Every April, thousands of people in the entertainment industry descend onto Sin City for the NAB Conference.  It is actually the largest convention Vegas hosts!  5 Alarm Music attends every year and you can't miss us in our bowling shirts with flames on them! It is where producers and editors can meet face to face with 5 Alarm Licensing Reps to learn about our libraries, our custom music capabilities, and of course our Sonic Fire Pro software.  Many current clients met us for the first time at NAB in years past and remain loyal.   We hope to meet many more future clients and friends this year at NAB 2010!
Of course we are not the only music library that attends this behemoth conference, so in order to shine, we make demo reels each year to show off our music and where you've heard it.  With booths at every turn at NAB, these videos need to showcase why 5 Alarm is the best.   Brian Rule Productions stepped up to the challenge, producing and editing six reels.  Along with our label Rescue Records, we have three new libraries we wanted to present: Lift, 1 Revolution, Stereo Royale, and 1 Versatile Underscore.  Another reel Brian Rule produced for us uses 3D animation to highlight films and television shows where you have heard 5 Alarm Music in action!  You are sure to see at least one of your favorite shows or a film you have seen this year!
If you are not going to NAB, check out our Reels here!! If you are going, be sure to come see us at
Booth # SL8209 !