Whether you like it or not, the holidays are upon us.  To all of us at 5 Alarm, it means driving around the construction crew erecting the endless rows of bleachers for the Rose Bowl Parade and wishing upon a star that a parking space will be spared from all of the holiday shoppers.  Oh what fun it is to drive in a one lane traffic jam!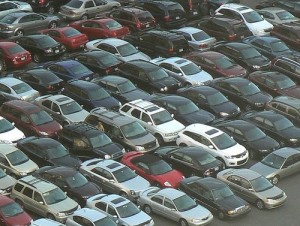 But alas, the holidays are like everything else in life: They are what you make of them.  Let's look at the bright side, shall we?  Christmas lights makes any house look cool.  Candy canes?  Love 'em.  Mistletoe takes the fear out of stealing a kiss from the one you have long admired.  PRESENTS.  Yes, it deserves all caps.  Giving and receiving mind you!  Time off work?  Hallelujah!  All of this plus celebrating your faith and family to boot.  OK, family togetherness is sometimes the root of holiday haters.  For all of you who are the Meg Griffin from Family Guy in your brood, just remember there are always awesome movie marathons on any given TV channel.  A Christmas Story, National Lampoon's Christmas Vacation, Bad Santa, The Muppet Christmas Carol – all great flicks that will buy you a couple hours away from any unpleasant family dealings!

We've got some great new holiday music to go along with that eggnog and chestnuts roasting by an open fire.  C'mon, get happy!

ZONE524 Christmas Allsorts

It's very apparent that the folks at Zone Music LOVE Christmas.  ZONE524 Christmas Allsorts rocks out/jazzes up/strikes up the orchestra in celebration!  This is some serious happiness and excitement.  If all that joy wasn't enough, there are even intimate cocktail lounge solo piano renditions of your favorite Christmas classics.  Christmas Allsorts indeed!


Audio clip: Adobe Flash Player (version 9 or above) is required to play this audio clip. Download the latest version here. You also need to have JavaScript enabled in your browser.
Audio clip: Adobe Flash Player (version 9 or above) is required to play this audio clip. Download the latest version here. You also need to have JavaScript enabled in your browser.
Audio clip: Adobe Flash Player (version 9 or above) is required to play this audio clip. Download the latest version here. You also need to have JavaScript enabled in your browser.
FCD292 Christmas Collection

I can just smell the boughs of holly when listening to FCD292 Christmas Collection.  It harkens back to the days of innocence and excitement of decorating the Christmas tree with tinsel, bright colorful lights and ornaments.  With swinging vocal jazz and rock originals combined with sophisticated string quartet renditions of those well known Christmas tunes, this CD is sure to satisfy all of the requests on your Christmas music list!  All that's left to do is to relax and listen by the warmth of the fire, ahhhhh.


Audio clip: Adobe Flash Player (version 9 or above) is required to play this audio clip. Download the latest version here. You also need to have JavaScript enabled in your browser.
Audio clip: Adobe Flash Player (version 9 or above) is required to play this audio clip. Download the latest version here. You also need to have JavaScript enabled in your browser.
Audio clip: Adobe Flash Player (version 9 or above) is required to play this audio clip. Download the latest version here. You also need to have JavaScript enabled in your browser.
FCD293 Winter Magic

Like the icicles that hang from your rooftop, FCD293 Winter Magic captures the beauty and elegance of the chilly months.  Atmospheric strings coupled with chiming bells and choral voices create an air of wonder.  Just make sure to have a warm cup of hot chocolate ready after enjoying the Winter Magic!  Brrrrrrr…..


Audio clip: Adobe Flash Player (version 9 or above) is required to play this audio clip. Download the latest version here. You also need to have JavaScript enabled in your browser.
Audio clip: Adobe Flash Player (version 9 or above) is required to play this audio clip. Download the latest version here. You also need to have JavaScript enabled in your browser.
Audio clip: Adobe Flash Player (version 9 or above) is required to play this audio clip. Download the latest version here. You also need to have JavaScript enabled in your browser.
ESLMB001 Christmas Old And New

Playful are the days of Christmas!  ESLMB001 Christmas Old And New is a light and airy splash of child-like fun.  With a joyful chamber orchestra playing sprite originals and the feel good classics, it's bound to make you have the urge to do something festive like build a snowman.  If only California had snow…..


Audio clip: Adobe Flash Player (version 9 or above) is required to play this audio clip. Download the latest version here. You also need to have JavaScript enabled in your browser.
Audio clip: Adobe Flash Player (version 9 or above) is required to play this audio clip. Download the latest version here. You also need to have JavaScript enabled in your browser.
Audio clip: Adobe Flash Player (version 9 or above) is required to play this audio clip. Download the latest version here. You also need to have JavaScript enabled in your browser.


For these and many other great tracks, visit our website to hear our innovative music libraries for yourself! New to 5 Alarm? We're happy to get you a username and password so you can search on our online music library website. Give us a call at 626.304.1698