Spring is a fresh and fragrant time of year when our clocks spring forward an hour, flowers are in full bloom and we pack our bags for Vegas, Baby.  Yes, The NAB Convention (National Association of Broadcasters) is upon us and we're gearing up!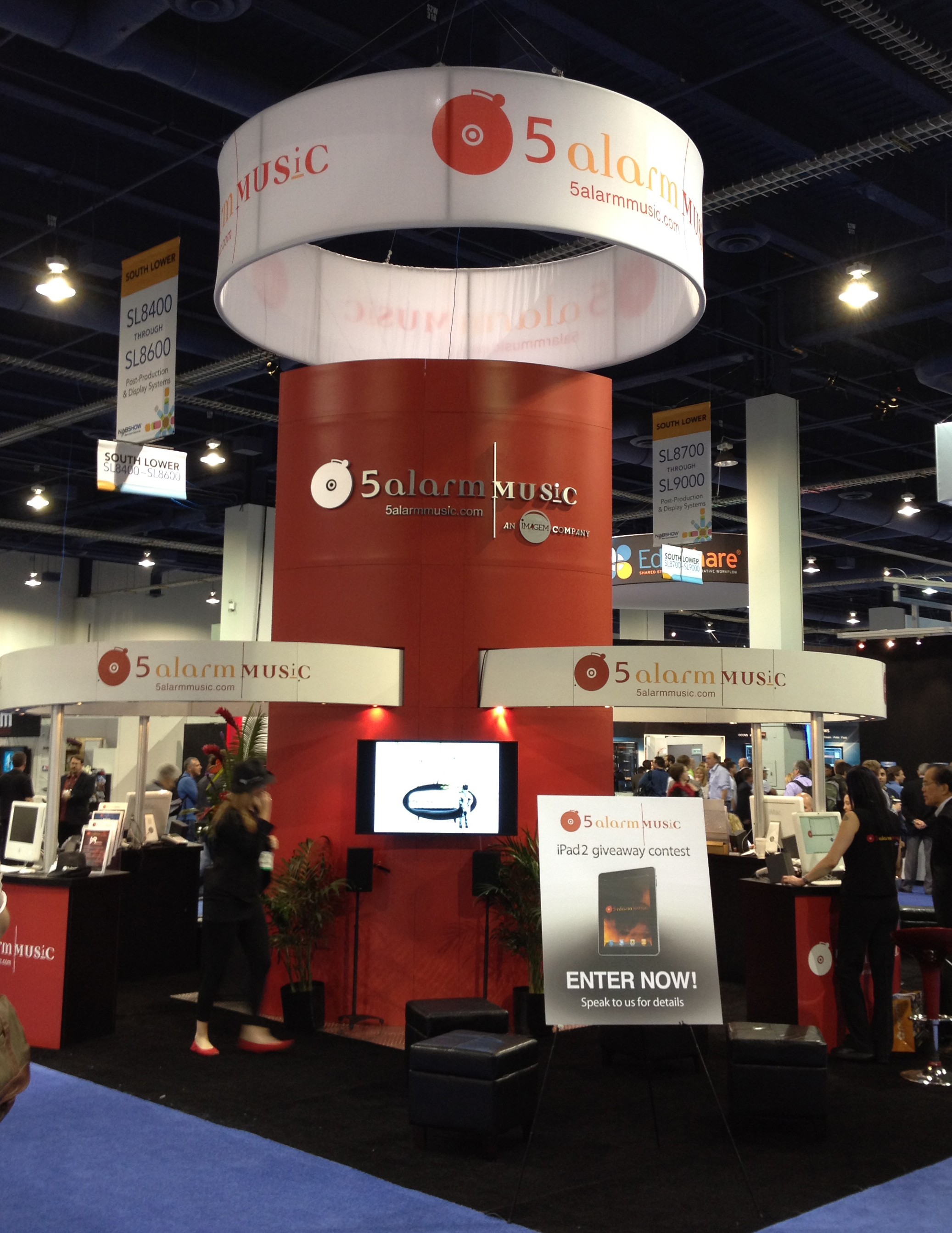 Per usual, our booth (# SL9027) offers many reasons to divert your foot traffic in our direction.  Here are the top 5 reasons to stop by and say hello:

5)  We are friendly and helpful people!  How many times have you been at a convention, gone up to a booth and are met with awkward silence from the people running it??  It makes no sense, but it always happens.  Our booth is an oasis of conversation, helpful information and all-around good vibes!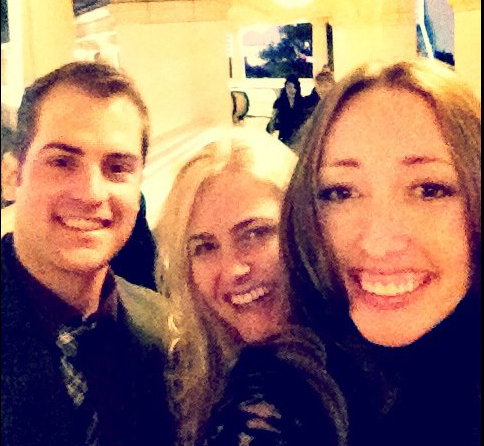 4)  The Swag Wheel.  Yep, you heard that right.  Picture The Price Is Right crossed with a roulette wheel with the biggest difference being that every square is a winner.  Best odds in Vegas!  Merely handing out swag is So. Last. Year.
3)  We Harness New And Exciting Technology.   The dawn of quicker user-friendly technology has made licensing music a breeze.  Our search engine aggregator Soundminer is now compatible with the iPad and iPhone!  Now you can find a soundtrack for your ride on the subway straight from your iPhone.  Hablas Espanol?  We are also introducing our search engine with Spanish metadata.  Our music is also available on Source Audio and Pro Tunes which have additional added features to make navigating our libraries easier than ever before!

2)  We are proud to unveil our collaboration with Stock Footage.com!  They capture Mother Nature, architecture and the modern human experience in stunningly beautiful 4K ultra HD video quality from all around the world.  We will be showcasing their breathtaking footage set to our vast emotional soundscapes.  In honor of our upcoming voyage to Nevada, here is their homage to that state with our music setting the stage:



And without further ado!  Drum roll please….
Audio clip: Adobe Flash Player (version 9 or above) is required to play this audio clip. Download the latest version here. You also need to have JavaScript enabled in your browser.
……..the number one reason to visit our booth……..

Audio clip: Adobe Flash Player (version 9 or above) is required to play this audio clip. Download the latest version here. You also need to have JavaScript enabled in your browser.


1)  OUR MUSIC!!  Yes, our music.  Our catalog is always evolving and growing with every passing week.  With over 200,000 tracks available online, how can you go wrong?

Speaking of music!  Here are some of our latest and greatest new releases:

SQ057 Grinding Gears

This bad to the bone collection of raw blues, garage rock and Southern styled bad-assery hits you to the core!  SQ057 Grinding Gears features compositions from Nashville guitar-slinger Kenny Greenberg whose credits include Kenny Chesney, Toby Keith, Brooks & Dunn, Grace Potter & The Nocturnals, Bob Seger and Etta James among many others.  Kenny is also the recipient of the 2012 Academy of Country Music's highly coveted Guitarist Of The Year Award.  So buckle up buttercup, you're in for a wild ride!


Audio clip: Adobe Flash Player (version 9 or above) is required to play this audio clip. Download the latest version here. You also need to have JavaScript enabled in your browser.
———————————————————————————-
PNBT1032 Blaxploitation

The 1970's was a cool era for bell bottoms, crime dramas, political liberation and all-around funkiness!  PNBT1032 Blaxploitation embraces the funky feelings of the period with no apologies.  These sounds of the city remind us that the jive-talkers and pusher men don't stand a chance against the unwritten laws of the street.


Audio clip: Adobe Flash Player (version 9 or above) is required to play this audio clip. Download the latest version here. You also need to have JavaScript enabled in your browser.
———————————————————————————-
TA003 Spaghetti Western

Navigate the wild west Italian style!  Our favorite fun pranksters at FlipperMusic have a new library aptly named That's Amore.  Picture this: New York, New York.  You're 8 years old at a family gathering filled with people who look like they belong in The Godfather but are laughing, I mean bellowing, and eating all kinds of tasty Italian foods.  Escarole, lasagna, marinated mushrooms, salami, chianti and a nice sfogliatelle or cannoli for desert are the center of the festivities.  Oh no, the dreaded Aunt Regina cheek pinching commences to the tune of, "You're getting so much older but you're still my little tesoro, ah?"  Being Italian is kind of awesome, and That's Amore taps into the culture with their usual charm.  TA003 Spaghetti Western celebrates the playful side of the film genre with lone flutes, epic trumpets, chimes, and panoramic rides into the sunset.  Giddy up!


Audio clip: Adobe Flash Player (version 9 or above) is required to play this audio clip. Download the latest version here. You also need to have JavaScript enabled in your browser.
———————————————————————————-
FCD294 Hollywood Trailers 3

It's almost time for our favorite family friendly blockbusters to hit the theaters!  My favorite part?  The exuberant and playful film scores.  The soundtracks alone take you on an adventure!  FCD294 Hollywood Trailers 3 acts as a magic carpet ride through a magical land of fairy tales.


Audio clip: Adobe Flash Player (version 9 or above) is required to play this audio clip. Download the latest version here. You also need to have JavaScript enabled in your browser.
Audio clip: Adobe Flash Player (version 9 or above) is required to play this audio clip. Download the latest version here. You also need to have JavaScript enabled in your browser.
———————————————————————————-
ZONE523 Architecture And Design

The ingenuity and inventiveness of architects and designers is all around us.  Just look up!  ZONE523 Architecture and Design captures the elegance and excitement of modern structures with a languid flare.  Breathe it in……ahhhh.


Audio clip: Adobe Flash Player (version 9 or above) is required to play this audio clip. Download the latest version here. You also need to have JavaScript enabled in your browser.
Audio clip: Adobe Flash Player (version 9 or above) is required to play this audio clip. Download the latest version here. You also need to have JavaScript enabled in your browser.
We look forward to meeting you at booth # SL9027!  And remember to wear comfortable shoes, you can thank me later.