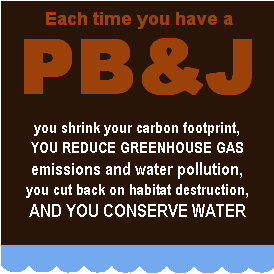 Ok…that title might be a bit of a stretch.  But I was inspired this afternoon after reading about the "PB&J Campaign" which points out–quite surprisingly–how large quantities natural resources can be saved by consuming plant based foods (Peanut Butter & Jelly being a warm and fuzzy example) just once per day, over meat, fish, eggs, or dairy products.  If you don't believe me, go read for yourself: pbjcampaign.org/.
As much as I love Peanut Butter & Jelly (chunky peanut butter with strawberry Jam and a glass of milk, please) and the thought that it could save the world, I couldn't help but think of the parallels between that, and our own campaign to ship less CDs and hard drives, now that we are up and running with Search & Rescue.
Thanks to you, we've already dramatically reduced the number of CDs we ship on a weekly basis–which helped to reduce our own carbon footprint.  It not only means we ship less from our office, but it also means we order less CDs from the libraries we represent.  So all-in-all there are less CDs that need to be duplicated, packed, and shipped, all of which greatly helps Peanut Butter and Jelly–I mean the environment.
So…have you tried Search & Rescue yet?  Register today you'll be cruising through production music libraries in a way that will make nature thank you!  Oh, and if you're new here–check out these other posts quick tuturial on how to search, share, and download the production music on our site.