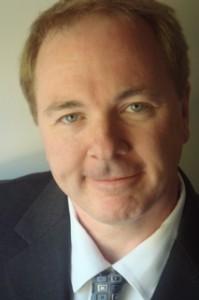 The Cue Source music library offers a diverse blend of sounds and textures that add depth and emotion to any scene.  It's no surprise that the man behind the music has 18 years of experience composing music for hit TV shows and movies.  Charlie Brissette's resume reads like an IMDB list of the top animated classics and Hollywood blockbusters from the past twenty years – Ren & Stimpy, Angry Beavers, Jimmy Neutron, Man On The Moon starring Jim Carrey and Rainbow Fish among countless others.  Cue Source's seven new releases reflect Charlie's musical vision and vast experience (for more Cue Source, check search.5alarmmusic.com).
Audio clip: Adobe Flash Player (version 9 or above) is required to play this audio clip. Download the latest version here. You also need to have JavaScript enabled in your browser.
What made you decide to start your own production music library?
I wanted to be in control of my own music. When you write for TV for 18 years (as I have) you realize that all of the music you have written has been for a specific purpose or show and that the rights are owned by Sony or Nickelodeon or HBO etc… With a music library I can do any kind of music that I feel there will be a market for and I own the music. Those two aspects are very appealing to me. Also I knew the group that put together 5 Alarm Music from previous experiences and I had a lot of confidence that they would do a good job promoting my music and getting it out to the networks and other clients.
Audio clip: Adobe Flash Player (version 9 or above) is required to play this audio clip. Download the latest version here. You also need to have JavaScript enabled in your browser.
What event do you consider as your "Big Break" in the music industry?
When I got to work on the pilot for Ren & Stimpy. Up to that time I had been working on lots of song demos, doing some commercials and a few B or even C movies!! Once I got on Ren & Stimpy and the show became a cult hit it raised my profile in the composer world and led to many more shows, opportunities, video games, CD's etc. Everyone needs to get a lucky break and the trick is that when you get that break you can handle the workload. I had been composing and arranging for 10 years when I got the Ren & Stimpy gig so I was definitely as ready as I could have been when opportunity knocked. Of course, you never know what a director will throw at you so in one sense you can never be fully ready!
Audio clip: Adobe Flash Player (version 9 or above) is required to play this audio clip. Download the latest version here. You also need to have JavaScript enabled in your browser.
Did you have to alter your composition style to accommodate the challenges presented by these directors?
Yes! Part of the job of being a composer on a TV cartoon is that you never know what the directors will ask you to do. Part of the fun of cartoons is that sometimes they are spoofs of scenes we've all seen in movies so directors will want you to capture the spirit of the scene that the cartoon is spoofing. Part of the challenge is to make the music sound true to those scenes without any copyright infringement on the original composer. Add to that the fact that the original score might have had a 110 piece orchestra and I'm sitting by myself in a room of sample equipment and ……  you get the picture!!
The other thing that makes the job of writing for cartoons challenging is that one show might be set in outer space and the next show might be set in the Old West so my job as a composer is to try to make the show sound true to both of those styles. It takes lots of listening and studying the music of the great composers who have given these styles their identity and sound over the years. After doing "my homework" so to speak I then am ready to write the score and incorporate the sounds and styles that will make those shows come to life and give the viewer the sense of the time and place that the characters are in. Lots of fun, lots of studying, lots of challenges!
Audio clip: Adobe Flash Player (version 9 or above) is required to play this audio clip. Download the latest version here. You also need to have JavaScript enabled in your browser.
What composers have inspired you to pursue a career in music?  Are there any composers or film scores that have impressed you recently?
I grew up like most composers I know as a fan of a pop or rock band and in my case it was The Beatles. The sounds and musical styles they used were inspirational and like most young musicians I wanted to be a star in a rock band. When that didn't happen I knew I had a talent to write music so I started writing and producing songs both that I had written and for others who liked my producing and arranging skills.
This led me to the Ren & Stimpy job as music supervisor and composer where I had to learn about scores and movie composers. Some of my favorites are many of the greats of movie scoring: John Williams for his memorable themes and his great brass writing.  Jerry Goldsmith who was a master in every way for many years.  John Barry for his Bond movie scores and his lush sounding Western scores.  Thomas Newman who is always interesting.  Danny Elfman who gave comic book film scoring an identity and a sound. Carl Stalling the legendary Warner Bros cartoon composer and Erich Korngold who in my mind is the original action adventure movie composer.
Some of my recent favorites have included John Powell for his Bourne Identity scores.  Brian Tyler for the in-your-face rock scores such as The Fast and the Furious and the too many to mention composers who do those great ethnic sounding score for those dramatic adventure movies.
Audio clip: Adobe Flash Player (version 9 or above) is required to play this audio clip. Download the latest version here. You also need to have JavaScript enabled in your browser.
Who are some of the artists that you have worked with?  Can you share a story or two?
I've worked with quite a few names you might recognize. Jim Carrey, Celine Dion, Kathy Lee Gifford, Waylon Jennings, Peter Frampton, Sheena Easton, Rosie O'Donnell, and many others.
I worked with Jim Carrey on the Man on the Moon movie where he played Andy Kaufman. The movie was about Andy Kaufman's life and Jim took his roles very seriously. The movie was directed by Academy Award winning director Milos Forman and was a great experience in which I not only wrote some music for the movie but I also got to arrange lots of songs that Jim performed as Andy Kaufman and Andy Kaufman's alter ego Tony Clifton, who was basically Andy's take on an Italian lounge singer who had seen better days. The interesting thing about the shoots and sessions was that whatever character Jim was playing on a particular day, Andy or Tony, he would stay in character all day. So if he had a question about the music he would talk to you like Andy Kaufman and you would have to address him as Andy and so would Milos and everyone else on the set. Same thing if he was playing Tony Clifton. In fact the Tony Clifton character was a difficult, short-tempered, ego maniac kind of character and Jim would often speak very roughly to me or Milos or whoever he was talking to if he was playing Tony. He'd start swearing and yelling and getting belligerent and it became this whole deal whenever anyone had to talk to Tony. I personally thought it was lots of fun and it made me laugh. Others were intimidated by Tony and stayed away from him if he was on one of his rampages.
One more story – Peter Frampton played the singing role for Jimmy Neutron's Dad for a show where Jimmy's Dad became a rock star. Peter was a joy to work with as well and so wanted to get his vocal just perfect. He liked the song and worked real hard doing take after take of his vocal part. After we had recorded lots of vocal parts and were real happy with what we got, Peter says to me, "Would you mind terribly if I added some guitar tracks to the song?" He was singing to a rough demo which only had some scratch tracks on it so of course if Peter Frampton is offering to play guitar I'm going to take him up on it. He asked me for a copy of his vocals and the rough track and said he would go into his studio and record some guitar parts. The next day I received a tape in the mail with seven different guitar tracks on it. He had played some great rhythm tracks and played a solo in the middle of the song and even gave me several takes to choose from for the solo. His playing was not only perfect for the song but so were his guitar sounds! He blew me away and put his stamp on the song. It was just great and unbelievable that he would offer to do that!
Audio clip: Adobe Flash Player (version 9 or above) is required to play this audio clip. Download the latest version here. You also need to have JavaScript enabled in your browser.
If you could go back in time and share one piece of advice to yourself when you were starting out, what would it be?
It's three phrases but I like to think of it as one piece of advice because these all work together.
Work hard so you will be ready when your big break comes,
Always believe that big break will come and …..
Never say "no" or "I can't do that" no matter what a director asks you to do!!
Audio clip: Adobe Flash Player (version 9 or above) is required to play this audio clip. Download the latest version here. You also need to have JavaScript enabled in your browser.
by Sarah Scarlata
*If you love what you hear and need a music search, call our music director Tyler Harp at 626.304.1698.  For these and other great tracks, check out our Search & Rescue site.